The Miracle soup Recipe in the Dukan diet book.
It has large pieces of vegetables and you can eat as much as you like of it on any PV day.
In this batch I mixed 2 onions, each cut into 8 big pieces, four sticks of celery, cut into 2-3 cm pieces, a green capsicum cut into 8-12 pieces, 2 carrots and a large parsnip cut into large chunks, a quarter of a cabbage, cut in big pieces, a 400g jar of Barilla Arrabbiate pasta sauce, a whole red chilli, 3 low salt Massel vegetable stock cubes, a teaspoon of minced garlic and then water until the vegetables are almost covered.
This was then heated to boiling and simmered until the vegetables are soft (about 30-40 minutes). Remove chilli and serve.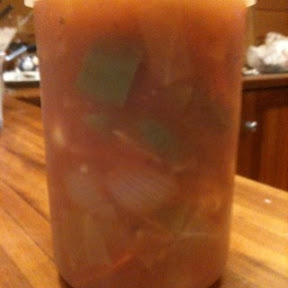 - Posted using BlogPress from my iPhone