Page 161 of recipe book
This is lemon eggs basically, but it works.
I separated 3 eggs and beat the egg whites with a pinch of salt. The yolks went into a glass bowl that fits over a saucepan to do a double boil. Then I added about 2-3 teaspoons of nativa to the whites and kept beating until the sweetner had dissolved, tasting until it was sufficiently sweet.
To the yolks was added the zest and juice of a lemon and a pinch of natvia. The bowl was then placed on the saucepan with water.
The double boiler started with cool tap water and was brought to a simmer. Using a spatula i moved the liquid until it thickened. The first sign of thickening was the slower flow back of fluid after a stir with the spatula. The bowl was hot. I removed it from the heat and then folded in the egg whites.
I used a spring form cake tin, with gladbake over the bottom, to cook the tart. It took 25 mins at 180C until the top was golden brown.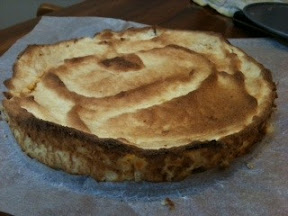 It tasted okay, but as it cooled and condensed a little, it improved.
I mixed up some mock cream, some Philadelphia, a sachet of natvia, and a few teaspoons of forme vanilla yoghurt and we had a treat on our hands. 8/10.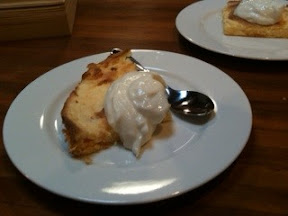 Posted using BlogPress from my iPad