My own recipe.
Season lean beef fillet steak with lite salt and pepper. BBQ beef. Allow to sit in a warm place 5 min. Meanwhile, per person, select 5 peeled, frozen green prawns (15 for us) and put in nonstick frypan.
To a small bowl add 4 tablespoons yoghurt, 1 rounded teaspoon each of grated ginger, crushed garlic, roasted chilli paste, chopped corriander and the juice of 1 lemon and a natvia sachet. Stir to mix and pour over prawns, toss to coat. Cook over gentle heat until prawns thaw, cook and curl. Take prawns out into a bowl. Turn up heat and while stirring, reduce sauce.
On plate arrange beef, prawns and then pour over sauce.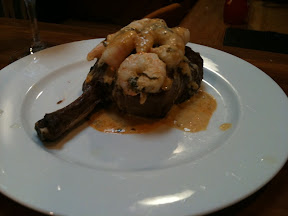 Really nice, Dukan compliant dish 9/10.
- Posted using BlogPress from my iPad