This recipe is a combination of two chicken recipes on page 57 and 58 of the Recipe book.
I sliced chicken breasts into 1 cm strips and then marinated in a mix of Sharwoods Tandoori paste and fat free natural yoghurt (1 teaspoon paste for every 100g of yoghurt) for approximately 2 hours in the fridge. I then BBQ the chicken on the grill.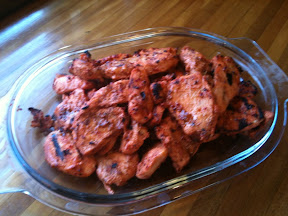 8/10, always good served with yoghurt.
- Posted using BlogPress from my iPad